Aweb — Ukrainian-Polish
Digital Marketing Agency
We offer tailored services that leverage search engines to boost sales, bring new customers and optimize our clients' advertising budgets.
SEO

services
The full cycle of on-page
SEO
Our team of experts carries out SEO audits that identify technical issues of a client's website. We also emphasize on creating great content for our clients.
Straight to the first page of Google
Thanks to our expertise, 70% of all our clients' targeted keywords got secured in the top 10 in just 6 months.
Guaranteed traffic growth
Our main focus is not just rankings, but also the overall search traffic across a broad range of keywords that are specific to our client's business.
Tailored service
We get to know our clients and their goals, then work specifically to achieve them.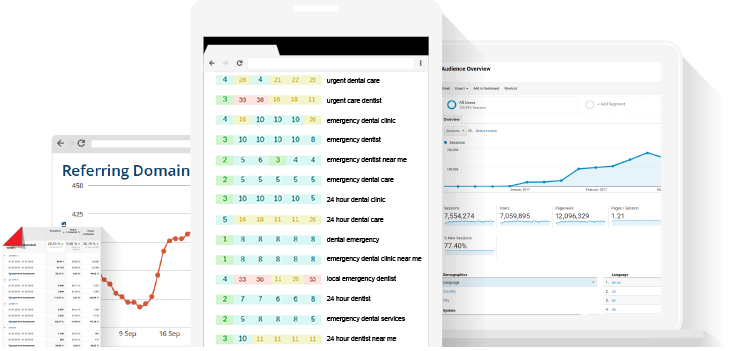 SEO

consulting

We develop an SEO strategy specifically for our client's business. We provide expert consulting to our clients in regards to any search marketing questions.

Keyword research
We diligently search for all keywords that are relevant to our client's business. Niche and competition analysis assist our team with the finding of long-tail keywords.

Technical audit
Our SEO audit eliminates any shortcomings from an organic search perspective. Consequently, our client's site ranking and traffic will substantially increase after our audit.

Content marketing
We work together with our clients to come up with effective content strategies. We also compose and publish great content that attracts visitors.

Penalty recovery
An approach that has proved its effectiveness is used to remove any automatic and manual Google penalties. We also restore both of the client's traffic and ranking after content duplication penalties (Panda) or low-quality backlinks (Penguin).

Link building
Our SEO outreach team creates and implements strategies for obtaining high-quality backlinks, as well as generates traffic from blogs, articles, and comments.

On-page
SEO
We perform a complete on-page analysis of our client's website structures, meta tags, texts and other important technical aspects of SEO. In return, our clients receive comprehensive requirements specifications.

Reporting & Analysis
We carefully study Google analytics data. Furthermore, our team generates reports and gives out recommendations on how to improve performance.
Our clients























Our results
Success stories of promoting our customers' online stores
«Aweb allows me to not to worry about the whole section of the business that otherwise I need to hire people to run»
Simon Kaastrup-Olsen,
Global Fantasy Sports
Watch video review
SEO

services for small and medium businesses

We have been approached by a variety of small to medium businesses in the B2B sector (such as consulting firms, system integrators, transportation companies) and B2C (such as online stores, renovators, insurance and credit professionals, furniture production companies). By cooperating with us, our clients can concentrate on running their businesses instead of SEO.

Since 2006, we have been providing internet marketing services. Every decision — is the sum of valuable experience and rigorous web analytics. We help our clients to evaluate the benefits of each marketing channel and build an effective internet marketing strategy.

We value long-term relationships with our clients. We don't start on a project until we understand its goals and our client's business model.

We do not just focus on driving traffic from search engines, instead, we utilize all available marketing channels such as SEO, contextual advertising, Google Display Networks; we work with price comparison websites, create and optimize landing pages. Our landing page optimization process involves conversion analysis and A/B tests.

We boost our clients' profits by increasing their traffic and ranking. Ultimately our goal is to convert the targeted audience into clients.
Effective
SEO

without risks of Google penalties

We use only white hat link-building techniques and that is a guarantee.

To make sure our SEO specialist doesn't waste time on the routine process of obtaining backlinks, part of the work is delegated to a link builder. His expertise is to locate quality websites on which he can publish content with backlinks to our clients' websites. Search engines discover those links and as a result ranking of our clients' websites grows. Growth in ranking leads to an increase in the number of visitors from SERP.
On-page site optimization
Our expert will start with a detailed audit of your site. His task is to find every error that hinders the search engine advancement of your site. He records his findings in a document that will later become the requirements specification for a programmer. In addition, he analyses the structure of your website, all content, and features of your business. Once lists of keywords are collected and allocated, an SEO expert passes on the task to a copywriter that regularly produces optimized and high-quality content to your website.
Increasing search traffic
to the site itself and its structure — on-page optimization. The other part is designated to the receipt of inbound links to the site — external optimization.
Results projection
Results are dependent on the quality of the site and the competition in that particular niche. Contact us for more information.
Website search optimization
For us, website search optimization is just one of the channels to drive targeted traffic. An important one, but still just a channel. We use it to solve a specific problem — to increase targeted traffic to our client's website.
Fees
The total cost of a project will be determined by the time spent by our specialists. Estimate expenditures will be also factored in. This is to guarantee the constant development of your project.
Maximum outreach
We launch and optimize advertising campaigns in Google Adwords, Bing as well as Facebook. We increase the number of conversions via online advertising services and remarketing.
We improve your advertisement campaign
We use time and location targeting, so your ads are shown to targeted buyers only.
Conversion rate optimization
Services such as call tracking and audience analysis via Google Analytics help us with the improvement of marketing campaign results. We also create effective landing pages.
Certified specialists
The experience of our employees comes from the work on dozens of successful projects. You can rest assured as we are premium certified partners of Google.
72%
of all your Keywords will be secured in the
SERP
in just 6 months.